Witches are popular characters in books, movies and TV shows.  They have been portrayed in a variety of ways, from the wicked cackling old hag, to the young and sassy neophyte first discovering her powers.  A boom in witch-themed TV and movies in the 90s, such as The Craft and Buffy the Vampire Slayer, spawned the term 'Generation Hex', describing the new generation of youth exposed to esoteric and occult-themed media.  This continued with the Harry Potter series, which became immensely popular and had a huge cultural impact.
The fact that most of the 'witches' portrayed in media have very little in common with real-life witches and Wiccans, and whether or not popularizing witches in this way is healthy and acceptable, is a topic for another post.  However, for entertainment sake, I enjoy watching occult-themed TV shows and movies, and think they have led to the creation of some good strong female lead characters.  Below is a list of some of the most popular 'witches' from TV and movies.  Which one is your favourite?
The Wizard of Oz (1939) – After Dorothy's falling house kills the Wicked Witch of the East, Glinda the Good Witch protects Dorothy from her sister, the Wicked Witch of the West, from gaining her powerful Ruby Slippers.
I Married a Witch (1942) – The spirit of Jennifer, a witch from colonial Salem, comes back to ruin her enemy, however a love potion backfires and Jennifer's loyalty is tested.
Bell, Book and Candle (1958) – Spiteful Gillian Holroyd places a spell on her neighbour Shep to stop him from marrying an old enemy, however she finds she must choose between her love and her powers.
Bewitched (1964) – Samantha falls in love with mortal Darrin Price and attempts to play housewife in the suburbs.  Chaos ensues as Samantha's meddlesome mother Endora, pesky Uncle arthur and others make life difficult for the couple.
Bedknobs and Broomsticks (1971) – Eglantine Price is an apprentice witch who reluctantly takes on three orphans during the Second World War. Along with her cat, Cosmic Creepers, she attempts to use her witchcraft to assist in the war effort.
The Witches of Eastwick (1987) – Friends Alex, Jane, and Sukie meet the enigmatic Daryl Van Horne in their small town of Eastwick.  Each woman is easily seduced, however discover their own powers when they attempt to overthrow his control.
Hocus Pocus (1993) – The Sanderson Sisters, hung in colonial Salem, are resurrected by a group of children on Halloween night. Wishing to stay in the world of the living, the sisters fight the children for their life essence.
The Craft (1996) – Troubled teen Sarah moves to LA and meets rumoured witches Bonnie, Nancy and Rochelle.  She joins the group but quickly discovers the dangers with playing with their new-found power.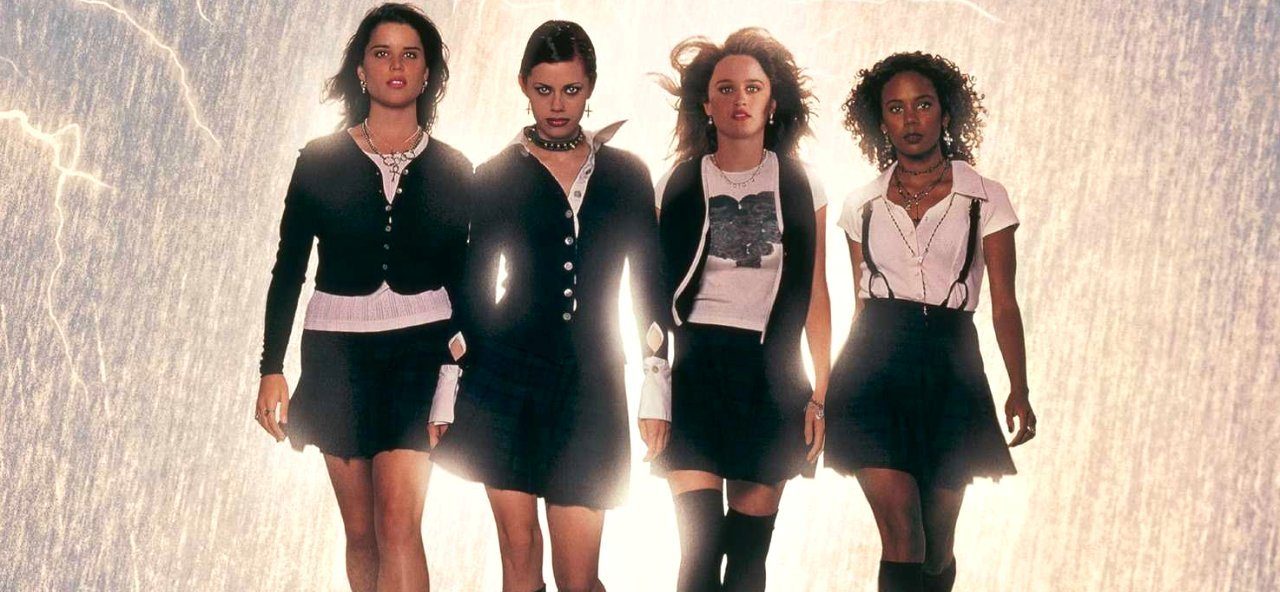 Sabrina the Teenage Witch (1996) – Sabrina, who lives with her aunts Hilda and Zelda and their cat Salem, discovers she's a half-witch on her 16th birthday. The aunts attempt to teach Sabrina the ways of magic as she tries to survive the tribulations of high school.
Buffy the Vampire Slayer (1997) – Willow Rosenberg, a shy bookworm, develops her magical abilities through studying witchcraft.  She assists her friend Buffy battle supernatural enemies with her magical powers, later fighting her own darkness within.
Practical Magic (1998) – Sally and Gillan Owens are sisters raised by their eccentric aunts Frances and Jet. The sisters try to navigate life while avoiding the dreaded 'Owen curse', which leads to the men they love die an untimely death.
Charmed (1998) – Sisters Prue, Piper, and Phoebe (the Charmed Ones) discover that they are powerful witches destined to save mankind from supernatural enemies.  They read the inscription on their ancestral Book of Shadows, which unlocks each of their unique powers.
Harry Potter (2001) – One of the brightest witches of her time, Hermione Granger joins Harry Potter and Ron Weasley at Hogwarts School of Witchcraft and Wizardry. Although seemingly bookish and arrogant, her incredible talents help Harry and Ron escape from many a precarious situation.
True Blood (2011) – Season 4 centers on Marnie, a witch who uses her coven's powers for necromancy.  Marnie later invokes the powers of a 16th century witch to kill all vampires out of revenge.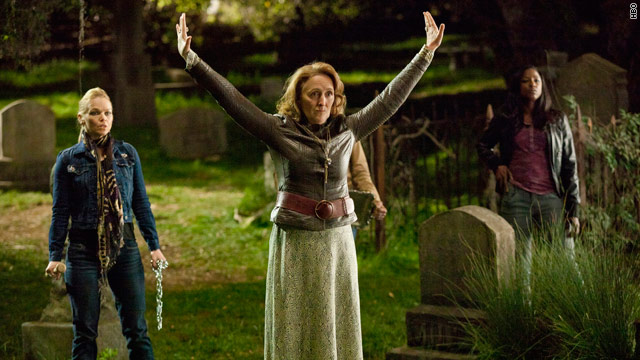 Vampire Diaries (2009) – Bonnie Bennett discovers she comes from a long line of witches, including her Grandmother, who teaches her the ways of the Craft.
The Secret Circle (2011) – After the death of her mother, Cassie returns to Chance Harbour and finds out she's a hereditary witch.  She joins a secret coven of young witches, and soon finds out that the danger faced by their parent's coven was still present.
Once Upon a Time (2011) – In an act of revenge, the Evil Queen Regina interrupts the marriage of Snow White to Prince Charming, transporting all the fairy tale characters to a small town in Maine, erasing their memories in the process.
Taken from my blog post on Pagan Pages: Witches in the Media
© West Coast Pagan